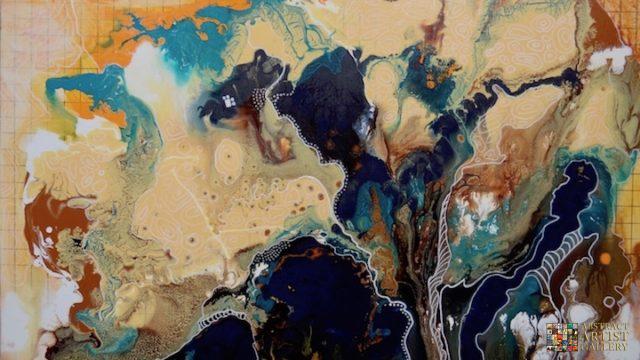 Shelley Heffler
Abstract Artist: Shelley Heffler
Medium: Mixed Media Painting
Website:
www.shelleyheffler.com
Everyday the flux of physical as well as cyber mobility has had an impact on human experience. I think about society in a networked, complex and spatially expanded way that includes concepts of boundaries and connectivity. Even though everything seems to be a part of world systemic processes and global networks, the notion of place and location remains temporal and mutable.  Cartography and abstraction are two languages used in my work. I am interested in engaging the viewer on a journey that preexists language and generates ideas and messages that relate to the viewer personally and metaphorically. The works explore global concerns and shifting boundaries of society and politics. Imagery is derived from a variety of resources such as transit systems, ancient ruins, floor plans, city grids, topography and geography; time and space coexist in a compressed world. I strive to reinvent or mutate natural and artificial spatial relationships that exist on the earth's surface, and to that end, open a dialog for cultural and global issues.
Shelley Heffler was born and raised in the Bronx. Educated at Fashion Institute of Technology, and Cal State Northridge. After receiving her Masters Degree, she traveled extensively through out Europe and Asia. On returning from her travels, she settled in Los Angeles where she taught ceramics and fine art. Her current studio is located at the Beacons Art Building in Inglewood, CA.
Browse Other Artists