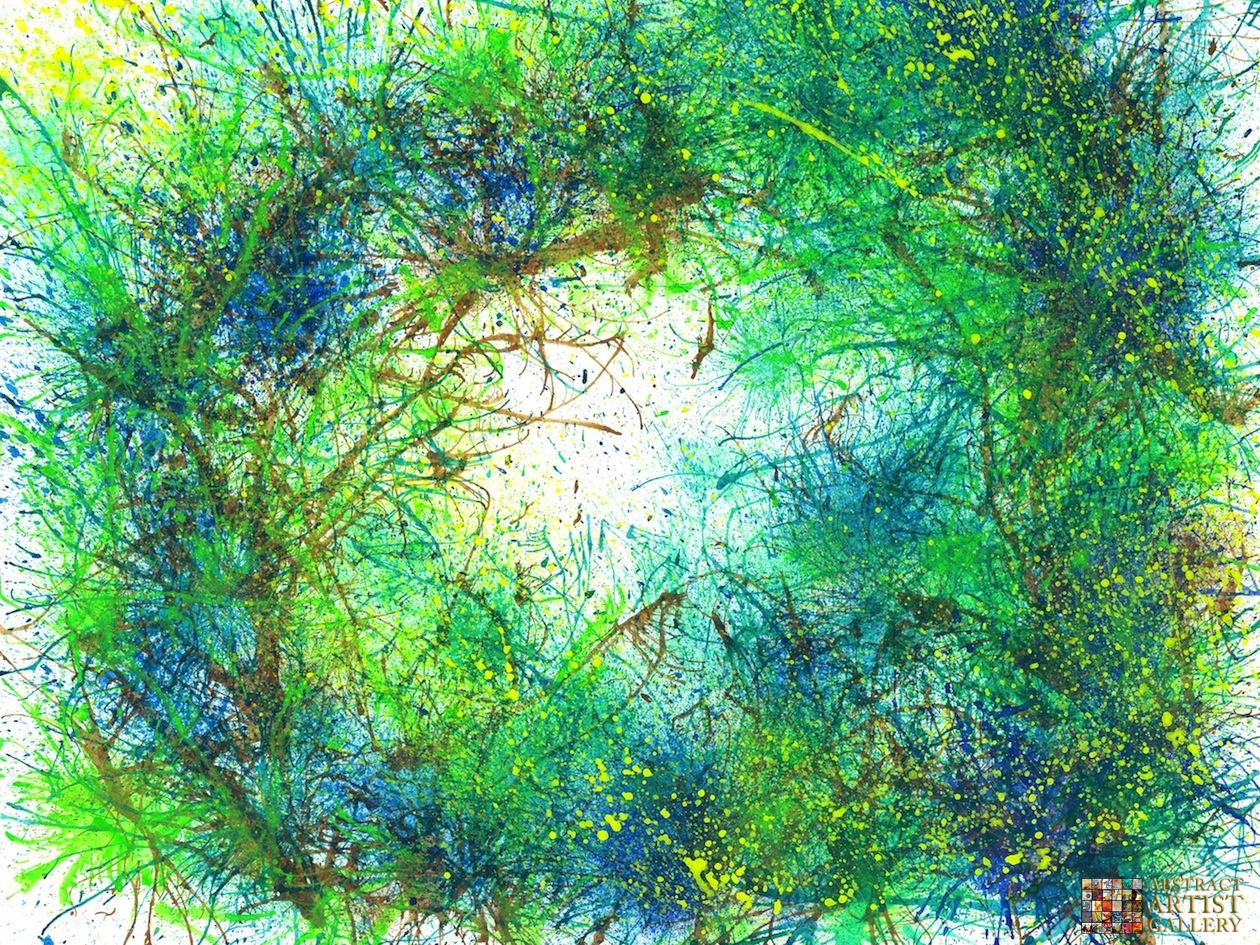 Rainbow Artist Orlando L
Abstract Artist: Rainbow Artist Orlando L.
Medium: Watercolour on Art Paper
Facebook Page: 
https://www.facebook.com/RainbowArtistOrlando
I believe I'm a Starseed who came to Earth to inspire & enlighten other souls through the expression in my art, give them hopes and meaning in life. My message is "Nothing is impossible! Miracles happen to those who believe". Once you truly believe in something passionately, miracles shall follow. Think happy & healthy, and you will attract a happy & healthy reality, because you are the only director of your own reality. LOVE is the key. We are all from the same particle of All That Is. May ALL is well in your world. 🙂

I never knew I could paint! In April 2012, I suddenly started watercolour painting during a 16-week Neurofeedback treatment. Since then, Art has been very healing for me and for my spiritual growth. My life has changed completely to a new direction. I am Rainbow Orlando L. from beautiful British Columbia Canada. A freethinker & an open-minded truth seeker, I describe my art style/expression as "flamboyant alternative abstract with a touch of freedom & kink".  Inspirations for my artworks come from the natural beauty of planet Earth, nature of all seasons, and every life form from Creation, microorganism, the magnificent cosmos, and our spectacular Universe.

Through channelling & meditations, I learned a lot about Life, Reality, and Spirituality. It deepens the connection I have with the greater Universe. I am channelling every time I paint my art. Each piece of my art is unique, multi-layer, and multi-dimensional. I enjoy using vibrant colours, rainbow, gemstones, charkas tones, and colours that can be useful for colour therapy. I believe colours are frequency, and this energy vibrates harmoniously with our natural vibrations of our true core self. It has healing power. So it has influence to our conscious and subconscious mind. And I love using watercolour. I believe water has memories and it can be used as a communication tool to transfer frequencies, vibrations, memories & information. I always blessed my water with love before I blend them with my watercolours for my paintings. I believe this positive intention will enhance the art to express itself better, and therefore could allow the art viewer the maximum benefits in getting spiritual inspiration, awakening ideas and motivation to change for better.

If you see "Art" as "Spirituality", then you shall see colour therapy, aura & charkas energy balancing, symbolism, rebirth, healing, passion & love in my artworks. Personally, I do see "Art" as "Spirituality". Art is the expression of my daily life. It is a safe place for me to express my deep feelings & inner thoughts. It reminds me of the connection between mind, body, & spirit/soul, and it reminds me of my connection & relationship with the whole Universe, in all realms, all dimensions, all life times, and all parallel universes. All my artworks are uniquely painted with love and light from my heart and soul. This loving energy is available to you at all times reflected by the colors of my artwork.
Rainbow Artist Orlando L. is an inspiring partial brain damage survivor & an Asian-Canadian multi-media Artist from Vancouver, British Columbia, Canada. He was born and raised in Hong Kong China. As a teenager Orlando moved to Canada with his family where he finished his high school & college education in Fashion Design, Fashion Merchandising, & Visual Merchandising. For years he has been a respected contributor & influence in the colourful Fashion Industry until a tragic accident struck Orlando's fashion journey and his dream of becoming a fashion designer in detour. The result of the intensive medical emergency is a near death experience and a devastating invisible disability — partial brain injury. Overwhelmed and confused by the unfamiliar damage, Orlando's journey in the Fashion industry suddenly came to an end — an early retirement at the young age of 26.
During his rehabilitation at home, Orlando turned spiritual and learned a lot about Self, Love, the meaning of Life, and the connection between Body, Mind & Spirit/Soul. He also gained some knowledge on New Age alternative healing therapies by experiencing himself during his recovery. Few years after his recovery, Orlando once again picked up his strength, expanded his talents and transformed himself into a Hair & Fashion Model, a Beading Jewelry Artist, and a Visual Merchandiser. In 2011 Orlando left all his careers and went on a 11-month spiritual retreat to expand his connection with the Universe, as well as for his own personal growth & spiritual development. The result is yet another miracle. During a 16-week neurofeedback brain treatment in 2012, Orlando suddenly started watercolour painting out of a blue. Without any experience, training and knowledge, Orlando self taught himself by playfully exploring different possibilities and through inspirations and teachings from spiritual entities. In less than no time, he created his own unique style in Art expression and has been highly productive living his passion as an artist, creating Art that touches people emotionally & spiritually, and bring love, light & happiness into people's life through his artworks. Also in 2012, Orlando married his neurofeedback therapist who gave him his new life, and is legally recognized as 1 of the 3000s same sex married couple in Canada.
Browse Other Artists