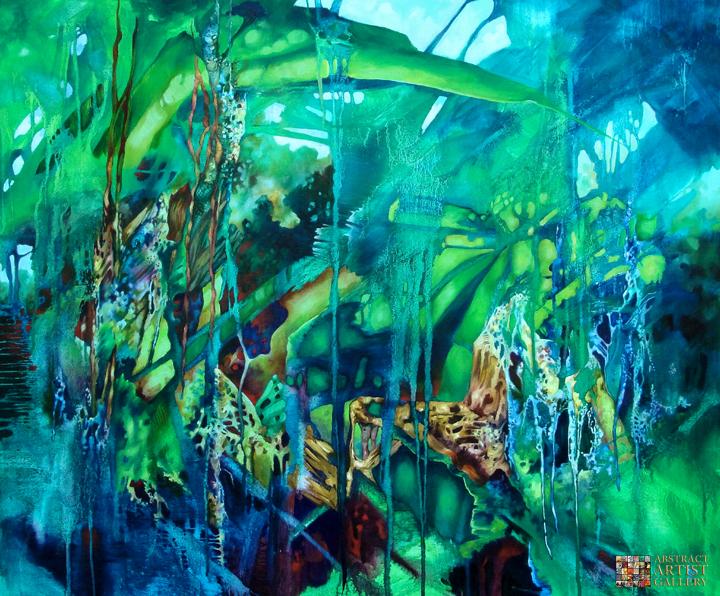 Monica Linville
Abstract Artist: Monica Linville
Medium: Oil, Watercolor, Mixed Media
Website:
www.monicalinville.com
I live and work in the foothills of Puerto Rico's El Yunque National Rainforest. As such, I am completely surrounded by the forces of nature and as such daily life is a constant reminder of the connections we share with the universe. I believe to understand those connections is our survival and our evolution. While I work with a variety of mediums and in a number of techniques, this desire to connect to the whole is a common chord in all of my work. My focus over the last year is to work simply with texture and color, without introducing recognizable icons in to the piece. It's much the same as when you gaze up in to the heart of a tree… it becomes an abstract world of lights and darks, colors, lines, textures… pulling you in to its embrace. It's this sensation I am attempting to recreate.
Monica Linville was born in upstate New York in the US but has spent the greater part of her life living in tropical environments such as south Florida and the Caribbean. Self-taught, her philosophy has always been that the best teacher for painting is time spent at the easel. She accredits her unique style and versatility to her independence from the main stream art world. She uses technique to serve the subject matter, not the other way around. Monica has made her living as a professional artist for over 30 years, selling her paintings through galleries around the world and through her studio. She teaches group workshops on a variety of painting techniques and mediums, specializes in mentoring students looking to build portfolio submissions to art school and gives private classes as well. In spite of living remotely, people seek her work, her knowledge and maybe even, sometimes, a glass of wine. Monica is also known to be active in emerging internet technologies, such as virtual reality, using these to promote and experiment with her art.  You're welcome to visit her any time.
Browse Other Artists