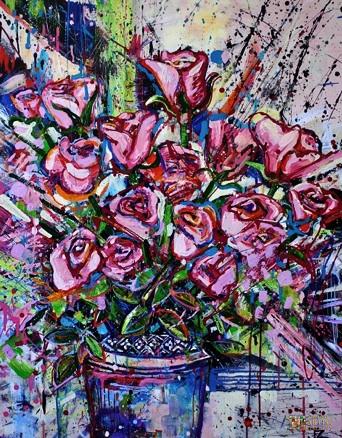 Jennifer Zizman
Abstract Artist: Jennifer Zizman
Medium: Acrylic
Website:  www.jenniferzizman.com
As an artist I'm interested in the visual energy that can be created through painting. The concept of energy greatly inspires my artwork and I relate this in my painting style. I build up the painting's movement to flow in a perpetually dynamic way. The overall feeling is spontaneous and exciting and related to the epic feelings that arise through connecting with higher forms of energy. Especially energy from soul expanding experiences, such as through sports, music, art and the power of nature. My paintings aspire to flick on the energy switches within the viewer- I think a key aim in life is to hit these higher energy planes. The paintings are "visual adventures", offering portals into imagined and real landscapes and mystical atmospheres.
Jennifer Zizman is a painter with a great passion for life and a focus on human potential. She is interested in the concept of different planes of energy and reaching a higher spiritual state through self-inquiry and connecting with higher forms of energy. This is also the focus of her art. She completed her Fine Arts degree from the University of Victoria in Canada, where she studied painting with artists Sandra Meigs and Robert Youds. After university she travelled the world, pursuing a deeper understanding of spirituality and the heights of the human soul.
Jennifer has always been interested in the spiritual in art. After university she studied Tibetan Buddhism at Kopan Monastery in Nepal and lived in Japan and India. She travelled throughout Europe and Asia, developing her art style and working as a teacher. She was especially impressed by Tibetan Mandelas and the ephemeral worlds and mystical deities represented in Asian artwork. She feels these "other worlds" are somehow in her artwork but in an abstracted way. While living in Japan she began painting canvas on the floor in her tiny apartment, she still finds it easiest to paint with the canvas laying on the floor. She always listens to music when she paints as she finds this provides a conduit to different planes of energy.
Presently Jennifer lives in one of the most energetic, astoundingly beautiful, awe-inspiring areas of the world, which is Whistler, B.C. in Canada. She lives there with her husband and two young children. When Jennifer isn't in her studio painting or teaching art classes, the family spends most of their time snowboarding, mountain-biking and smiling back at the great mountain gods. It is the ultimate place to be inspired as an artist and explore the deeper forms of energy and the heights of human potential.
Browse Other Artists