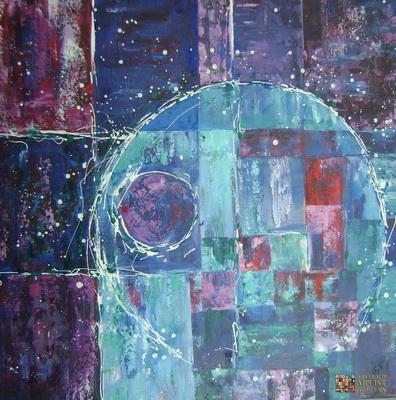 Tamara Harutyunyan
Abstract Artist: Tamara Harutyunyan
Medium: Acrylic, Oil, Watercolour, Pastels, Ceramic, Silk
Website:  www.tamara-art.ca
My art has been significantly influenced by music and my previous musical background. I always felt a strong connection between jazz rhythms, improvisations, and counterpoints with the way I paint. While studying in Art College and the Academy of Art I learned many different techniques, such as watercolour, oil, acrylic, painting on
silk and ceramic, and many others, which I constantly apply in my art.  I like to work in different genres of painting and drawing. During travel I am inspired by new places, which make me paint series of landscapes. I also have series of still-lives and jazz compositions. My art helps me to express all my inner feelings, emotions, thoughts,
dreams and desires.
After graduating from the St. Petersburg Industrial Art Academy, Tamara returned to Armenia. In Yerevan she increased her practical artistic knowledge and work experience by designing stained glass windows and furniture. Also, she perfected techniques for oil painting, watercolour and painting on silk. In 2003, Tamara moved to Toronto, Canada, where she quickly became part of the vibrant artistic community and has participated in several individual and group exhibitions. Tamara is a full time artist and an accomplished art teacher, inspiring many of her students to discover their own creativity. Her paintings can be found in private collections in Great Britain, USA, Canada, Armenia and Russia. Tamara presently lives and works in Toronto.
Browse Other Artists