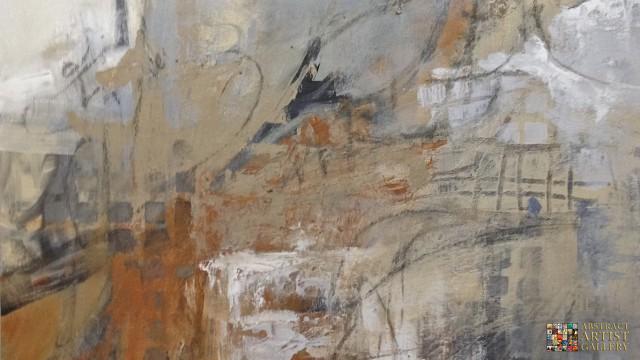 Kathy Blankley Roman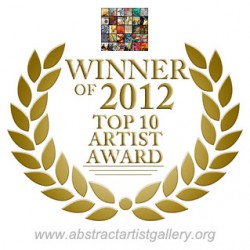 Abstract Artist: Kathy Blankley Roman
Medium: Mixed Media, Acrylics
Website:  
www.kbromanart.com
Facebook Page:
https://www.facebook.com/KBRomanArt
Words, images, feelings, smells, sounds, rhythms: all sensation is tucked away in my psyche until it resurfaces unbidden in my work. My abstract paintings are built up in layers of paint and various mixed media, the images appearing intuitively as I go. It is all about the process and the physical act of creating: becoming the brush, engaging the surface and responding to it intuitively–then finding the delicate balance between intuition and editing to bring the composition to a satisfying conclusion. While I consider myself a nonobjective painter, the occasional figure may appear unbidden which I usually allow to remain. To me they are magical and are a part of the spirit of the painting.
Kathy has been involved with drawing and painting ever since she can remember, taking courses here and there over the years. In her mid years, she became proficient in calligraphy, which led to a return to school in Commercial Art and a stint in illustration: book covers, numerous children's stories for Cricket Magazine, children's picture books and stylized spot illustrations. Her creativity took an entirely new direction after her retirement in 2010 when she took a course in expressive nonobjective painting from Steven Aimone. She continues to study with him.
Kathy's paintings emerge from a place deep inside and reflect her "inner space" as well as her connection to the world around her. A certain energy and history are evident in her earthy, limited palette paintings, imbuing them with a life of their own. Known for her signature earth tone palette, her paintings–full of motion and depth–evoke feelings of peace and calm and a sense of the ancient, while still remaining quite modern. Proficient in diverse media, her expressive acrylic and her encaustic paintings have been shown in juried and curated shows nationally and online. She is a featured artist in the eBook "A Walk into Abstracts-How did they do that? Vol. 4" by Sue St. John, 2012 and in 2014 she was chosen as a finalist in The Artist's Magazine 31st Annual Art Competition in the Experimental/Abstract division. Kathy maintains a studio and lives in Chicago.
Browse Other Artists