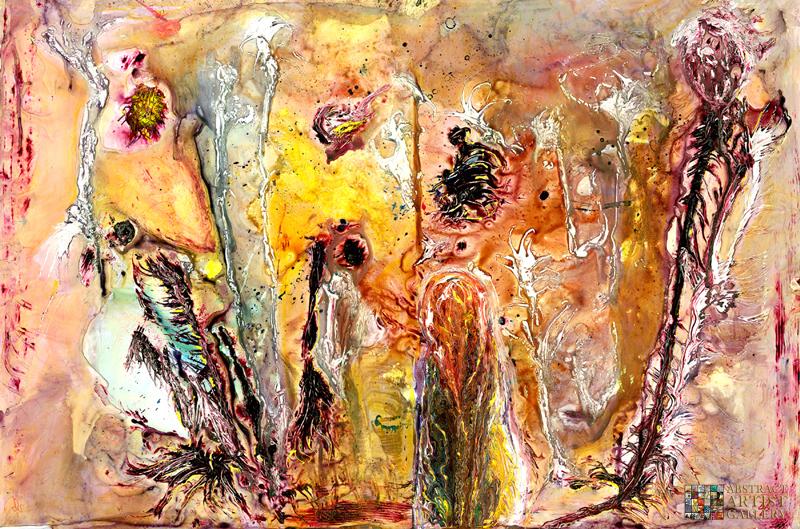 Valorie Preston
Abstract Artist: Valorie Preston
Medium: Oil, Acrylic
Website:  www.valoriepreston.com
In a world where colours collide, where laughter runs with tears and contradictions abound, I reside. Driven by the desire to reconcile growth with patience, love with despair, and pain with experience, I paint. I paint for the world that we have and the one I yearn for. Spontaneity of approach and the innovative use of media assist me in telling my stories while welcoming the viewer to come in and enjoy the ride with colour and texture. The line, the splash of colour, the sense of motion adds to the search for –happiness, meaning, truth, love, spiritual connection in my everyday life. To me, the visual artist should challenge us to feel, to see and to intuit in the same way a melody, or a line of a poem does. All are imprinted on our mind as we attempt to balance and order everything that life gives us. A painting connects the viewer to this journey.
While Valorie has always been an artist, she is not only a visual artist. She ran election campaigns, was a political staffer in a premier's office, taught high school, coached winning softball teams, and ran a national sport office. For the past 20 years, she has focused exclusively on creating an art business, both through internationals sales, national shows and personal artistic development. She traveled to South East Asia, and studied the ancient art of the Cambodian Temples of Angkor Wat and the art of today's Viet Nam. She went to the far North (Tuktayotuk), the Arctic Circle, spent a month in an isolated art workshop in Atlin, British Columbia, and she has had the intense experience of painting after attending an Aboriginal Healing Circle in Nares, Yukon.
Valorie works with mixed and multiple media, experiments with Yupo and Mylar, because they react differently with paint than paper or canvas, and is now working with oil on Alumnilite, an enamelled aluminum. Regardless of the medium or the subject, the strongest elements in all her work are colour and texture. Whether haunting faces or spiritual quests, with the use of vibrant colours and the play of light and dark, she suggests the powerful emotions and narratives that are in her head. The paintings, with their subtle narratives, draw the viewer into the essential warmth at the heart of Valorie's art. The works quietly question more than confront, and the reaction is an emotional one. Her work hangs in private and personal collections national and internationally.