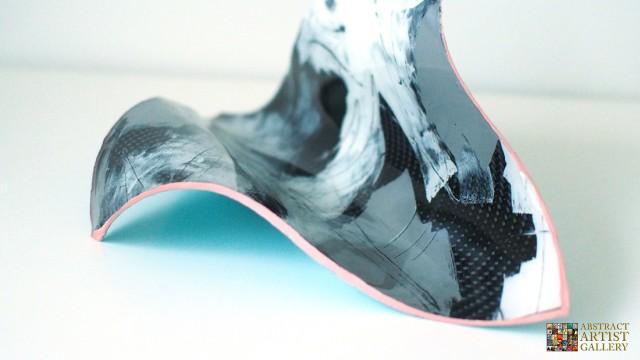 Sweet Samson
Abstract Artist: Sweet Samson
Medium: Composites, Resins, Acrylic, PU board
Website:
www.sweetsamson.com
Facebook Page:
www.facebook.com/sweetsamsonofficial
Art is a bridge between conscious and unconscious, material and ephemeral. Furthermore, true creativity cannot be born out of ideal logical equation. My current work is very much process- and material- related. Taking into consideration distinctive qualities and mechanical traits of the carbon fiber, an embodiment of the element of carbon in its manmade form, I'm interested in creating visual experiences through deconstruction of its pre-given characteristics such as weave and evenness. Deforming the patterning and recombining material with painted gestures evolves into new modes.
Sweet Samson demonstrated strong interest for drawing and painting since earliest childhood. Started professional career in 2006, as designer of leather goods and accessories, as well as, unique leather chairs. Since 2008 chiefly concentrated on contemporary art and application of wide range of techniques, with interest in researches on creativity and arts in general. She is holder of MFA degree from OTIS College of Art and Design and an inventor of proprietary Dynamic Carbon (fiber and composite materials) application technology, which reflects both artist's earlier affinities to design and technology, as well as, DNA of lasting fine art dedication and aesthetic. Sweet lives and works in Los Angeles, California.
Browse Other Artists