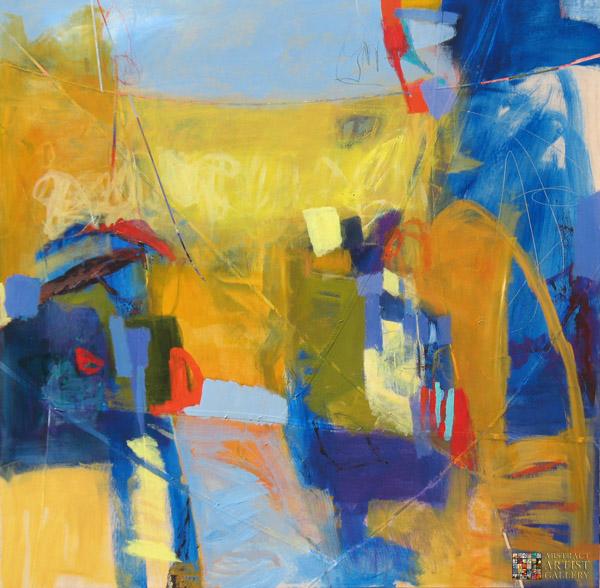 Stephanie Shank
Abstract Artist: Stephanie Shank
Medium: Acrylic, Mixed media
Website: www.stephanieshank.com 
My work is the crystallization of the human experience based on what seems tangible and what remains to be grasped. I don't try to create a specific thing, maybe just convey a feeling or a memory. My intent is to sustain an authentic vision and identity; my desire is to continue to create paintings that emotionally and psychologically charge the viewer out of normal habits of seeing.
Stephanie Shank's intense passion to convey the beauty that surrounds all of us has manifested in the luscious colorations and harmony seen in her abstract expressionist paintings. Born in St. Louis, Missouri in 1954, she excitedly watched her artist mother work at her craft and discovered magic in the luminousity and depth of "that thickly applied oil paint".
Ms. Shank paints primarily on wood panel which allows her to utilize a variety of tools to "make a mark of meaning". The vitality of her surfaces reveal vigorous and highly potent color compositions instilling nature recollected and eliciting a sense of mysterious knowing. Her explorations of form and composition, color and gesture give rise to a compelling language of abstraction where her ideas and feelings about the inner life are projected through organic shapes and energetic brushstrokes. Ms. Shank is currently represented by galleries in Arizona and New Mexico.
Browse Other Artists