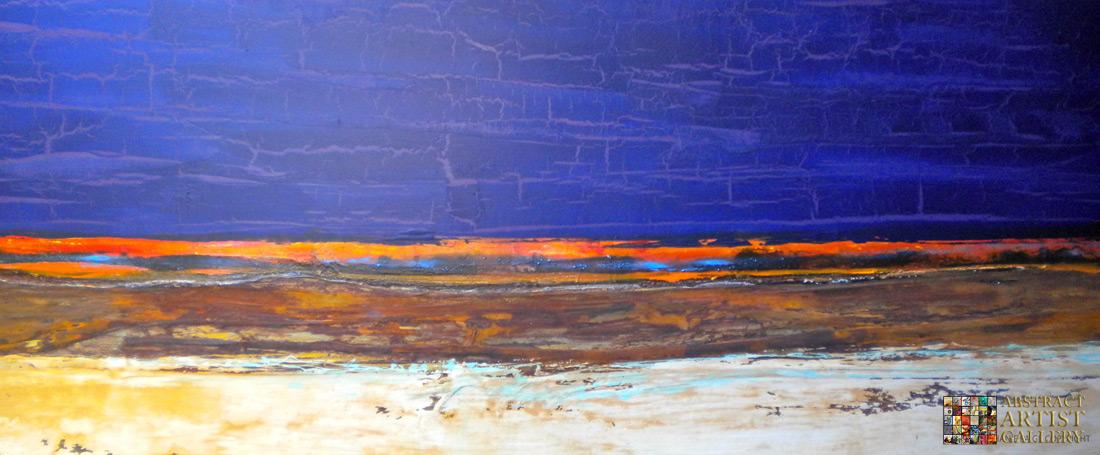 Stephanie Paige
Abstract Artist: Stephanie Paige
Medium: Mixed Media
Website: www.stephaniepaigestudio.com 
For me, life is about freedom and passion. The freedom to be passionate about life, living, nature, loved ones and creating…and passion to be free to be myself, to express what I see and dream. My creations start with play time, I am a child playing with material and I let go of all the outcome.  Enchanted with the present moment, I let the interactions between the material and my hands just dance together. There is no plan or design when I'm starting a composition, I become immersed with each dance step and the direction it takes is being channeled through me from another source. I'm inspired by the mother earth, I have always been a nature girl my entire life and I focus on all the amazing wonders of mother nature. In my work, I see rich textured soil, clear blue water, spacious open sky and a soft breeze. In my pieces of art you can see the contemporary feel mixed with a rustic earthy feel, two complete opposites that dance well together. I focus on rich colors, I am pulled toward curtain colors and each one give me some emotional feeling that I'm looking for. I practice Metta and put it into each piece, Metta (Pali) is a benevolence toward all beings, without discrimination, that is free of selfish attachment. It is a strong, sincere wish for the happiness of all beings.
Stephanie Paige has been captivated by all things creative her entire life as she was born into an extremely creative family full of painters, writers, musicians and craftsmen. Stephanie began painting abstracts as a young adult and started selling her paintings to private collectors. Stephanie moved to Southern California in 1990, where she went on to establish a career as a free-lance artist and illustrator. In 1993 she opened her business called "Paige Studio" where she published reproductions of her gallery paintings and sold them to retail stores. At the same time she began painting her murals, which became an instant success in Southern California. Stephanie created murals and artistic finishes full time for private and commercial clients for 18 years.
Stephanie has been published in several magazines such as; Decor & Style in 1999, San Diego Home & Garden Magazine in 2005, Art Business News in 2005, Kitchen Bath Design News Magazine in 2005, Equestrian Vision Magazine in 2006, Vision Magazine,The La Jolla Light and Luxe Magazine in 2010 and Sunset Magazine in 2011. Stephanie was the featured artist in The San Diego Union Tribune and in the The San Diego Art Guide in June of 2011. Stephanie's abstract's were featured in The New York Times in June of 2010.
Her public commissions for her murals as well as her abstract panels were in Brother's Restaurant in 2000, Black Horse Restaurant in Del Mar, CA in 2004 , The Inn At Rancho Santa Fe in Rancho Santa Fe, CA in 2004, New Park Hotel in Park City Utah in 2007, The Plaza Irvine CA from 2003 to 2009, The Crow Bar in Corona Del Mar, CA in 2007. She started creating her Abstract Mixed Media Collection in 2008 after many years of faux finishes and creating textured panels. She fell in love with textures and and at the same time her interest in Buddhism inspired a deeper meaning to her work. Her abstract collection is currently showing at the Contemporary Fine Arts Gallery in La Jolla, CA and also at Mixture since 2009 in Little Italy downtown San Diego, CA. Stephanie won best selling artist of the year at Mixture in 2010 and 2011. Most of her collection is made from green, used or found materials. Stephanie was in a solo exhibit from April 1st to June 20th of 2010 at the Old Hotel Gallery in Ramona, CA. Stephanie's abstract paintings have been purchased worldwide from private art collectors. Today Stephanie is an established abstract artist working full time in her home studio and continues to actively hone her craft and enjoys working with the galleries that represent her.
Browse Other Artists