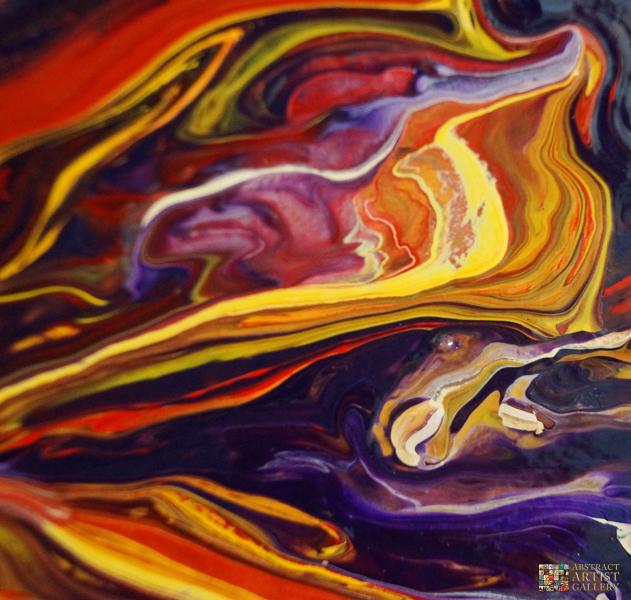 Shana Stern
Abstract Artist: Shana Stern
Medium: Fluid Acrylic
Website:
www.ShanaSternStudio.com
Facebook Page: 
www.facebook.com/ShanaSternStudio
I have always been incredibly inspired by movement and color. When we look at art, a dark day can shift into a beautiful one. Apathy can shift to action. And that's what is amazing about being an abstract artist. Everyone can experience your art in a totally unique way. I can have four people look at one of my paintings and each person sees something completely different in it. And I love that. From the moment I begin to visualize my next piece, through mixing the paints, until it's complete and the varnish has dried — I paint each piece listening to a single song. Hopefully, the movement and emotion I feel comes out onto the canvas. Unable to hold a paintbrush – attempting to control the uncontrollable, to create something beautiful out of the chaos which can ensue when working with fluid acrylics – I work from underneath the canvas to influence the flow of paint and to create some of the other-worldly effects you will find in my art.
A former professional screenwriter in Los Angeles and a dancer since age 3, when health issues and injury left Shana unable to do either, she began to channel her love of music and movement into painting and is known for creating highly energetic art which spills and dances across the canvas. In her first year as a working artist, Shana's paintings have been sold to private collectors, auctioned at charity events and created on commission by interior designers and builders. Named by the Multiple Sclerosis Society as one of the 2013 Artists of the Year, Shana resides in Austin, Texas.
Browse Other Artists