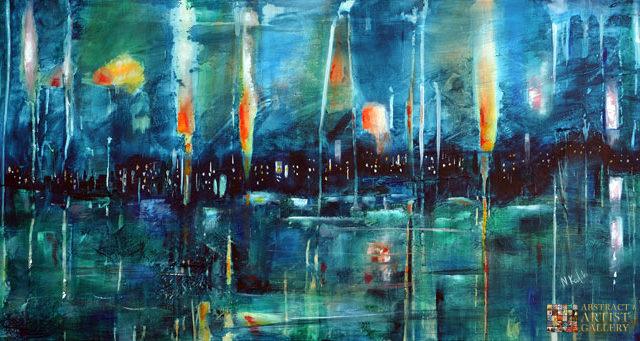 Niki Katiki
Abstract Artist: Niki Katiki
Medium: Oil, Acrylic
Website:
www.nikifineart.com
Facebook Page:
https://www.facebook.com/AbstractArtNiki
I cannot imagine my life without Art. Art is my passion! Every time I find myself in front of an empty canvas, my mind fills up with colors, and every empty canvas becomes a challenge. It invites me to fill it with shapes and colors that fit my mood, to play with shadows, lights, and… to empty my soul. Every piece of abstract art means something different. An abstract painting is a dialogue between the artist and the canvas. When there is nothing else to be said, then the painting is complete.
Niki Katiki is an abstract artist. Over the years she has passed from one style to the other, which is only natural, since she started painting in her childhood. Still-life, portraits, landscapes and even religious painting were some of her early attempts that were very soon left behind. Oil, acrylic, watercolor, gouache and mixed media, are some of the media she has experimented with.
For the last 25 years her work has been strictly abstract, and she has mastered her art with remarkable skill. Although she has created a very unique and distinguishable style, her abstract paintings have undertaken many turns and, under a closer look, different phases are to be revealed.
Indeed her works, which would be characterized abstract art rather than abstract painting, share some common ground, such as the spectacular use of colors, contrasts and shadows, the playful use of diagonals that creates a solid sense of perspective while different levels construct both volume and composition, but also the smooth way she moves from one texture to another, giving her paintings a rough surface by using colors impasto or with a palette knife or simply by incorporating different materials.
Browse Other Artists