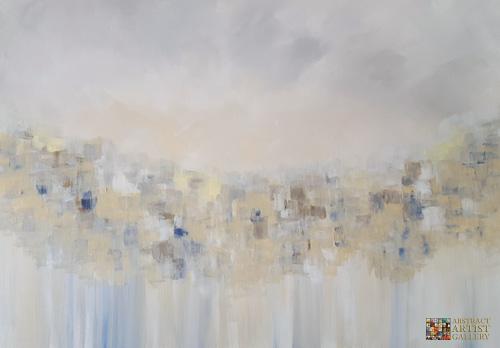 KR Moehr
Abstract Artist: KR Moehr
Medium: Acrylic
Website:
www.facetimeart.com
Facebook:
https://www.facebook.com/krmoehrart
KR Moehr is a self-taught artist living in Tucson, Arizona. Originally from Michigan where she spent many happy hours roaming through the Detroit Institute of Arts (with her artist/creative parents) and marveling at masterpieces, she earned a B.A. in Communications and worked in marketing for various corporations related to the automotive industry. She also lived in Portland, OR for several years, continuing to work as corporate V.P. of Marketing.

It was while living in the NW which she acknowledges she first picked up a paintbrush to try her hand at recording a particularly lovely watercolor sunset. As she puts it "It was awful; I was hooked." After working to learn and hone her artistic skills, she now paints mostly in the abstract  expressionist style and enjoys working with highly textured art. Her medium of choice is acrylics. As an abstract artist, her only wish is for her art is art to convey a feeling, personalized for each viewer. As such, she focuses on the "face time" each viewer spends with the art, hoping to create a uniquely interactive moment from the first glance. Her work can be found at www.facetimeart.com.
KR Moehr is an abstract artist in the SW USA. Focusing especially on creating textured abstract paintings, modern landscapes and expressive modern art, she works to create a unique experience between the artwork and the viewer. Inspired by nature, water and the desert, she often chooses to create a modern twist on a landscape, beachscape or modern expressive abstract painting. Her works can be found internationally, in private collections and resorts, hotels and corporate spaces.
Browse Other Artists