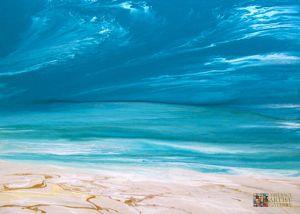 Kimberly Conrad
Abstract Artist: Kimberly Conrad
Medium: Acrylic, Oil
Website:  
www.kimberlyconradfineart.com
Art and music are to my soul, as food and water are to my body. I believe that they are two of God's most precious gifts to His children. As the author and giver of creativity, through these gifts, He has given us a portion of Himself. He created the very first canvas, magnificently painted it, and brought it to life."
Kimberly is a full time artist, dividing her time between painting and teaching from her Colorado studio. Having painted on most every surface imaginable, at this time she works primarily on canvas, board, and paper. Though her style remains quite diverse, she believes she has the heart of an Abstract Expressionist, or even more accurately, an Action Expressionist, as she am most definitely an "action painter". Her preferred application, used in her landscapes, seascapes and aspens is to "pour" the paint, manipulating the flow with water and body movement. She uses no sketches or brushes, rather allows the paint to move freely and tell it's own story. Each painting is a journey , dictated by primarily by her current thoughts and emotions, be they happy, sad, peaceful or frenzied. "It is a mysterious relationship, and is thrilling when the painting finally reveals itself, and our private journey becomes a story to share," says the artist.
Browse Other Artists