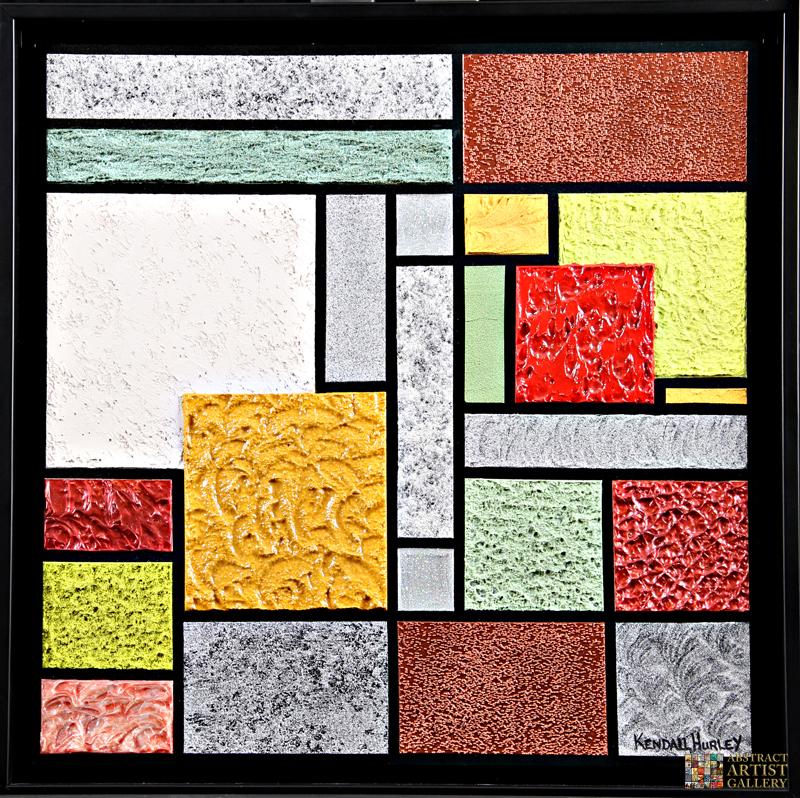 Kendall Hurley
Abstract Artist: Kendall Hurley
Medium: Acrylic
Website: www.kendallhurleygallery.com
My passion is abstract art and my life's goal is to have all people share this passion. I am a solo artist and my chosen form of expression is 'abstract'. The method with which I paint is called 'Acrylic Blend'. Acrylic Blend is the chemical manipulation and layering of acrylic paint. I am proud to be the creator of this technique, which produces unique and spectacular results.  My paintings are an incomparable combination of colour and texture, with almost a three-dimensional quality to them. The importance of colour and texture is very evident in my work. I consider it my responsibility to ensure that each painting is always professionally finished to the highest standard.  I am not a prolific painter and most often work on just one or two paintings at a time. Occasionally, I will work on several paintings, if some of the pieces require exceptionally long drying times between applications. I feel that focusing my attention, in this manner, pays homage to both the painting and its collector. My personal philosophy is that you can be good or fast, but not both. I feel art should evoke a positive, emotional response and it is my greatest hope to be successful towards that end.
Kendall Hurley is a Canadian artist who resides in the Niagara Region of Ontario. Kendall was born and raised in Sault Ste. Marie, Ontario and is a graduate of The Sault College of Applied Arts & Technology.  Kendall's artistic career began in her youth and, by her early teen years she was making and selling jewellery. Over the years Kendall has tried her hand at most artistic endeavors, including teaching art at many public schools throughout Ontario.  Kendall is known, internationally, for her work in abstract art. She has developed an intriguing painting technique known as 'Acrylic Blend'. Acrylic Blend is achieved by the chemical manipulation and layering of acrylic paint. This method is one that no one else has been able to duplicate.
On March 15, 2007 Kendall's painting, 'Unbroken', became a successful candidate in a world-wide competition held by the American Academy of Orthopaedic Surgeons. In March of 2008 the AAOS celebrated their 75th Anniversary and, as a part of that celebration, 'Unbroken' was included in a month-long group show in San Francisco. It was also included in a coffee table book and a web site/on-line museum. The web site/on-line museum is still available today.  Kendall Hurley's painting, 'Unbroken' is now the property of The Sick Kids Foundation. Upon completion of 'The Dr. Robert B. Salter Wing' in 2013, Kendall 's painting will have the honour of hanging in the entranceway joining the new wing with the hospital. The Hospital For Sick Children is located at 555 University Avenue, Toronto, Ontario Canada.
Kendall Hurley has paintings in the permanent collection of The Sick Kids Foundation, The Timmins Museum: National Exhibition Centre and in
many private collections world-wide. She shows, frequently, in galleries and venues throughout the Niagara Region and the Greater Toronto Area, including Toronto's Distillery District. In the Niagara Region Kendall's work can be seen, on a year-round basis, at Chateau Des Charmes Wines, located in Niagara-On-The-Lake, Ontario.  Kendall Hurley is a proud supporter of The Sick Kids Foundation/The Dr. Robert B. Salter Initiative.
Browse Other Artists