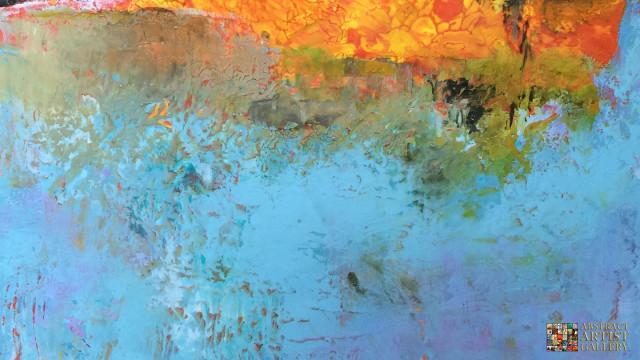 Andrea Wedell
Abstract Artist:  Andrea Wedell
Medium:  Oil Paint, Mixed Media
Website:
www.gallerywedell.com
Facebook Page:
www.facebook.com/AndreaWedellArt
My paintings are both semi abstract and abstracted poetic interpretations of the landscapes I come across in my journey through life. When I've resonated deeply with a place, I've moved there and painted from there. Originally from the San Francisco Bay Area, I moved to Turner grey Paris, France and lived there for 22 years. From there I moved to the sun drenched South of France for 5 years, before circling back to my beloved California where there is both sun and rolling fog. By painting the constantly transitioning beauty of the landscapes that have drawn me in, I seek to capture the essence and color of both the fleeting moments and the silent, stillness of the past living on in each scene.
Andrea Wedell is an internationally collected and exhibited artist, based in Sausalito, California. She is the daughter and grand-daughter of artists, architects and francophiles. Growing up, she was surrounded by art lovers and aesthetics, and grew to hold beauty as the guiding force in her own life.  When her grandfather Alexander Stoller sold half of his land in the Berkshires to cast one of his largest marble sculptures in bronze, it was acquired by the American Embassy in Paris. Andrea attended the opening ceremony, and shortly after captivated by the magic, uprooted from her native California and moved to Paris.
The France adventure spanned 27 years before she moved back to her beloved Marin County in 2013. While in Paris, Andrea studied under acclaimed beaux art teacher Michèle Massiou for 10 years. She began exhibiting regularly at the Grand Marché d'Art Contemporain in Paris, before becoming a permanent artist with Galerie BE Espace, also in Paris. Her work has been published in card deck form, and she has exhibited regularly in Provence at the gallery "La Dame du Castellet".  Andrea paints landscapes in both semi-abstract and abstract styles, in oils, mixed medium, collage and pastel. Her subject matter choices all draw from the indelible imprint her cross-cultural search for beauty and depth have left on her soul.
Browse Other Artists