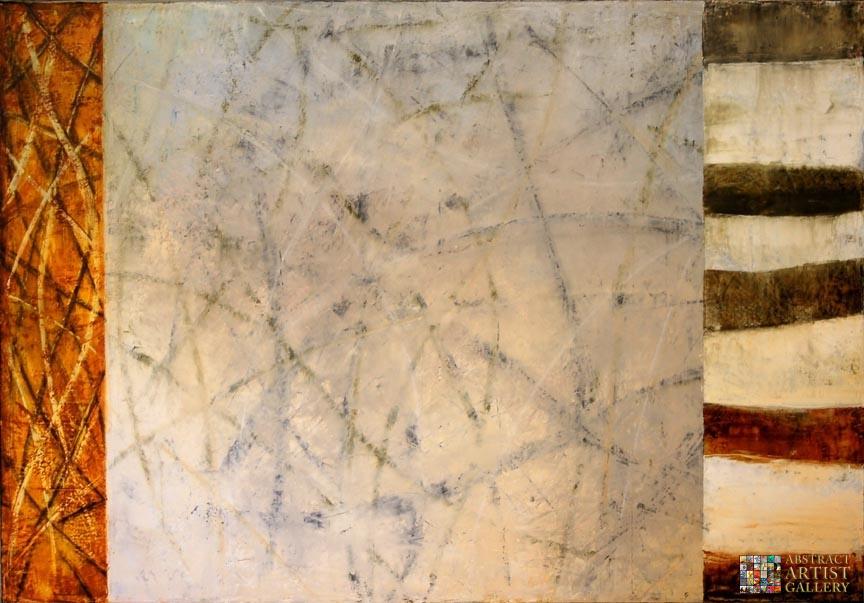 Allen Cox
Abstract Artist: Allen Cox
Medium: Oil, Cold Wax in Alkyd
Website:  www.allencoxstudio.com
The 20th Century anthropologist and philosopher Claude Levi-Strauss has suggested that "… art lies on a continuum halfway between science and magic." I like that idea. I try to paint with passion and intelligence. My work is spontaneous and intuitively generated. I create from a wide variety of sources, drawing on my own life experiences and interests. Mystery and revelation, history and myth, intuition and logic, dream and memory…these are polarities that compel and inform the heart of my work. They reflect the intent to both connect with the natural world and negotiate the constructed world; to illuminate the interior through an examination of the exterior; to reveal the unseen architecture of everyday life. My work is grounded in abstraction yet it avoids formalism. I try to generate paintings that will oscillate between the possibility of subjective reading and the work's primary existence as an abstract presence.
Born in Eugene, Oregon in 1950, Allen Cox is a practicing Pacific Northwest contemporary painter. Cox has been showing his work nationally since 1982 and internationally since 2003. He holds an MFA in painting from the University of Oregon, where he studied with the highly regarded Pacific Northwest abstract painter Frank Okada. Cox worked as a field archaeologist and scientific illustrator for over 10 years in Oregon, experiences which profoundly influence his painting.
Allen Cox's work has been featured in "New American Paintings: Artists of the West", a profile video segment for the public television program Oregon Art Beat, the book "100 Artists of the West Coast", various design journals and other visual media including book covers, CD covers, film and television. His paintings are found in numerous public, corporate and private collections throughout the US, as well as internationally. Cox has lived and worked in Oregon, New York and New Zealand. He currently resides in Knoxville, Tennessee. Allen Cox is represented by galleries in Portland, OR; Laguna Beach, CA; Knoxville, TN and Christchurch, New Zealand.
Browse Other Artists